CLICK HERE TO START READING
CLICK HERE TO CONTINUE READING
"My dad didn't want anyone else near me."⁠
⁠
This West Virginia woman has pleaded guilty to ki*lling her boyfriend so she could marry her biological father. With help from her father and sister, Amanda McClure tortured her boyfriend for several days before burying him in a shallow grave.
Six days later, they dug him up and dismembered him. And just three weeks after that, she got married to her own dad.⁠
Amanda McClure was given a 40-year jail sentence while her dad received a life without parole sentence for the crime.
A weird murder that occurred in West Virginia in February 2019 has been solved – at least for the time being.
Amanda Michelle Naylor McClure, 31, pled guilty to second-degree murder for killing her lover, John Thomas McGuire, 38, with the assistance of her father and sister, according to The Bluefield Daily Telegraph.
The bones of McGuire, which had been buried, exhumed, mutilated, and reburied by the perpetrators, were discovered months later in a grave at a Skygusty property in McDowell County where the victim's family had been living. Ed Kornish presided over a virtual hearing over Skype during which Amanda McClure was sentenced.
Karen Smith, McGuire's mother, participated in the virtual sentence from her home in Alabama. Smith stated, "I just want to know why she believed she could be God and steal my child." "She broke my heart and the hearts of my grandchildren. "They weep every night for their father."
During the sad hearing, McClure appealed for forgiveness from the judge and McGuire's family. She also portrayed herself as an abuse victim at the hands of her biological father.
"I have to look at myself every day," McClure said. "My family didn't raise me to be this way. I've not only hurt John's [McGuire] family, I've hurt my own family." McClure is the biological daughter of Larry McClure, 55, who she later married after they murdered her boyfriend together.
She was raised by adoptive parents Allen and Gwen Holm, who were also present during the virtual sentencing.
"I want to apologize on our behalf," Allen Holm said. "I can't imagine what she [Smith] is going through."
Holm pleaded with the court to consider the influence of McClure's biological father and maybe reconsider McClure's sentence in a couple of years.
According to court filings, Larry and his daughter McClure engaged in an incestuous relationship. He was estranged with McClure and her sister, Anna, who lived in different states. McClure and McGuire shared an Indiana residence at the time.
Her father didn't want anyone around her
Then, Larry decided to travel to his daughters' residences and pick them up. According to court documents, when he arrived to pick up McClure, both his daughter and the victim, McGuire, were "dope sick." The group returned to Skygusty, where Larry was residing following his release from prison on charges of sex offenses.
After ten days, the family devised a scheme to murder McGuire. McClure said that the murder occurred because the victim "was with me." My dad didn't want anyone else near me."
Larry stated during his own sentence trial that McGuire had purchased a bottle of wine for Valentine's Day, probably with the intention of sharing it with McClure. Larry and his daughters then smacked McGuire in the head with the wine bottle, tied him up, and injected him with liquid methamphetamine.
Larry admitted that the victim was then tormented for two to three days.
The killers' family had buried McGuire's body in a two-foot grave behind the house by the following Saturday. After six days, his remains were exhumed, dismembered, and reburied. Three weeks later, Larry and McClure flew to Virginia's neighboring Tazewell County to wed.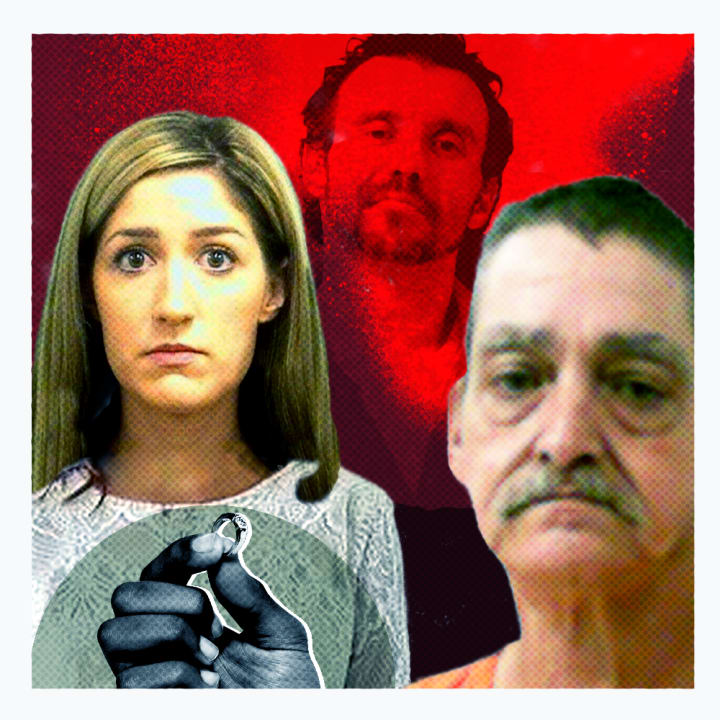 "I don't think you're taking full responsibility for killing John [McGuire] — you're blaming it on your father," Judge Kornish said in response to McClure's claims that she was under the influence of her father.
In October 2020, Amanda McClure was given a 40-year jail sentence. In August, Larry received a life without parole sentence for the crime. Anna Marie Choudhary, McClure's 32-year-old sister, is also accused with first-degree murder in connection with the passing of John McGuire.
"We can't unring that bell… Karen [Smith] is not going to get her son back," the judge said before his final words to McClure, "the time you will serve is not an adequate amount of time for the pain you have caused."
CLICK HERE TO READ FULL ARTICLE